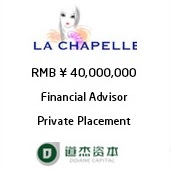 Founded in 1998, La Chapelle is dedicated to introducing the romance and elegance of France into the lifestyle of the Chinese people.
La Chapelle has 500 corporate owned retail stores throughout large cities in mainland China, and has earned a reputation as an outstanding enterprise in local industry.
In the end of 2007, as the financial advisor for La Chapelle, Dojane Capital has successfully rasied $40 million through private placement for the company and has also been one of their investors.
back